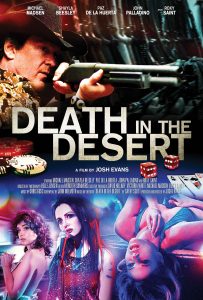 Arizona Underground Film Festival and the Tucson Festival of Films is proud to present the World Premiere screening of Josh Evan's Death in the Desert on Oct. 9th at 9pm at the Temple of Music and Art.
Based on the real life story of Lonnie Theodore "Ted" Binion, the heir to Binion's Horseshoe Casino, DEATH IN THE DESERT is a love triangle set in the fast-paced, sometimes lonely world of Las Vegas. The life of Kim Davis (Shayla Beesley), the young live-in girlfriend of legendary casino owner Ray Easler (Michael Madsen), is thrown upside down when she falls for Matt Duvall (John Palladino), the man Ray hires to bury his $20 million fortune of silver on the floor of the Nevada desert.
Director Josh Evans, son of actress Ali McGraw and legendary Paramount studio head Robert Evans, in attendance for post-screening Q&A.
Get your tickets HERE.